.Salam.
Ewah tiba tiba terperasan Encik Ben Ashaari punya new entry. Saya berbintang Sagittarius yuhuuuu!!!

Saya Sagi baby yang cumel2! hahak. perasan dow!
Saya dilahirkan pada 12.12.1989!
(Okay kantoi umur dah di situ!)
Cewah bangga, nombor cantik tuh! :D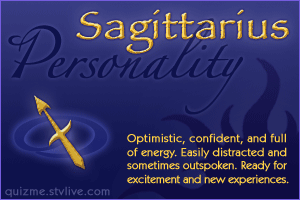 Sagittarius Personality, The Sign of the Archer
Nov 23nd to Dec 21st
Strengths
High Spirits, Happiness, Friendly, Spiritual, Inspirational, Charming, Charitable, Optimistic, Good Judgement, Honesty, Philosophical.
Areas to Evolve
Flashy, Impulsive Spending, Pompous, Fun Over Work, Starting Projects, Details, Emotional Ups and Downs, Learning from Mistakes, Taking Action on Intuitions, Spreading too thin.
Jangan marah ye, FRANK SINATRA berkongsi tarikh yang sama dengan ku! :p
I did it my way~~~~