Cewah harini kan konon2 nak buat review pasal make up yang saya gunakan setiap hari untuk cover flaws, blackhead, whitehead and OF COURSE pimples! hahaha. XD Jadi dengan suka citanya saya mempersembahkan
Ewah oleh kerana saya Korean freak kan, jadi semua barang2 saya adalah daripada Korean Made punya. Konon2 nak jadi Barbie doll or having a dolly like face and so on kan? :p
Tapi ni part one sahaja, apa yang saya apply di muka sebelum saya apply powder pada muka saya. Faham kan faham? :D
Jadi first things before apply any makeups anda haruslah membersihkan wajah anda terlebih dahulu dengan facial foam dan sewaktu dengannya supaya muka anda tak mudah naik jerawat. :) Saya gunakan GARNIER (ceh pengaruh Lisa Surihani bukan Fasha Sendat yer) jadi saya pun menjadi pengguna produk itu. :D
Tetapi untuk make up, ya ya saya tahu saya budak2 (remaja) jadi saya tergila2kan mamat2 korea oleh itu saya recommend penggunaan product: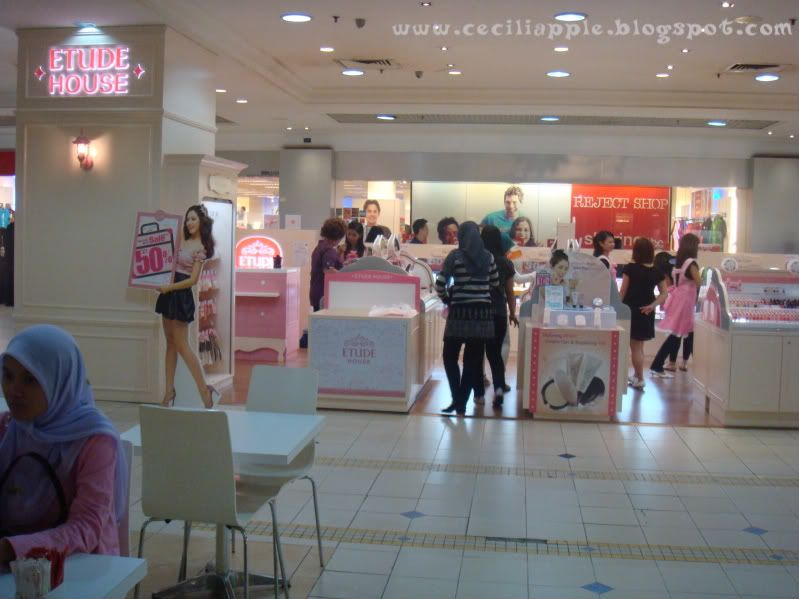 You see decoration kedai dia amatlah santek! Oh no PINKY PINKY everywhereeee! :D
Oh canteknya kau! ;D
Jadi saya nak syorkan a few product yang I found very very GOOD & Worth buying macam ini:
Dream On Base Slim & Cover
I tell you memang superb! :D I just love them, it's green in color and it is damn cool! (Haha, punyalah over exaggerated) It got SPF 22++ and it is good to prevent kita punya muka daripada sinaran matahari, oh well We are hot kan? (I mean Malaysia!) :p Jadi pakailah make up base yang boleh prevent muka kita daripada sinaran UV yang boleh menggelapkan kulit kita yang Asian look ni, (Aww bangga!)
So basically after you had already put your moisturizer di wajah anda, jadi anda apply sedikit base ni sebelum letak any foundation. okay nanti saya buat VLOG tutorial cara nak apply make up okay? (Ceh tiba2 nak jadi Michelle Phan) :p
Okay second items yang I apply into my face is this:
BB Magic Balm SPF30/PA+++

Skin protection from environmental and UV damage, BB Magic Balm promotes natural looking coverage that nourishes, soothes and corrects skin tone. Includes brush for clean and convenient application that delivers pore safe oil control and porcelain smooth complexion.

-> Formulated for Sensitive Skin
-> Sparkling Clear Complexion
-> Skin Clarifying Formula
Hah dah ada penjelasan kan? Okay this product too memang terbaik dari ladang! I just bought them and the salesgirl told me that this product will last for 3 years (if you don't used them regularly lah kan?)
Jadi two basic things before applying makeup ni sangat amat penting ye semua.
So kalau nak muka jadi macam ni lepas makeup:
Instead of muka yang banyak jerawat flaws and so on kan:
You can contact me for any of your events, wedding ke, photoshoot ka, couple shoot, dinner ke lah apalah kan di:
Nanti i bagi u all my contact number berserta price yang sangat murah dan affordable! SERIOUSLY!
Will update soon with more of my make up diary plak. Ada fashion ada make up lepas ni nak buat diary ape plak eh? :)
Sebab saya MAKEUP ARTIST sekarang. Hahaha. SO jom lah cuba saya. Eh salah, gunakan khidmat saya.
Nanti saya update satu product yang ZASSSS boleh hilang terus PIMPLE di wajah! Wah I loikeee! :D